How do you choose between different dog foods? The most attractive packaging? The price? Which ingredients should you look for and which should you avoid when buying dog food? The best thing you can do is to learn how to read pet food labels.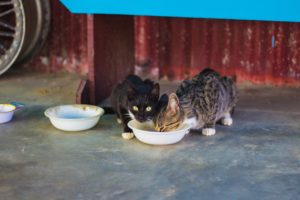 You are probably (or maybe not?) a careful reader of food labels; but are you reading the labels on the dog food you buy? If you care what you feed your dog, and want to improve the chances of a long and healthy life, reading the labels on pet food – and understanding what they indicate – is one of the best things you can do for your dog.
General points to bear in mind
The starting point is your dog's age, weight, breed and possible health problems it may have.
A seal saying "organic" must contain at least 95% organic ingredients, while "Made with Organic Ingredients" should contain at least 75% organic ingredients. When there is less than 70% organic ingredients in the food, the label can say organic, but no seal may be used.
The guaranteed analysis is a mandatory guarantee that the food contains the labeled percentages of protein, fat, fiber and moisture.
What you wouldn't find is the percentage carbohydrates. You can get a fairly close number by subtracting the protein, fats, moisture, and fiber from 100. The reason it's important to know this number is that dogs don't need a lot of carbs, and consuming too many can result in obesity and health problems
Food that is size-specific can help to determine what food has the right amount of calories and nutrition for your dog, like food for a "Small breed" differs from that for a "Large breed". Food is also generally labeled either "All Life Stages" which is for growing puppies or a lactating dog; or "Adult Maintenance" which is meant for all other dogs.
Be aware that wet and dry dog foods use different standards and that the percentage of protein in wet food isn't the same as in dry food. Wet (canned) dog food contains more moisture and fewer carbohydrates and is considered healthier by many pet nutritionists.
Look for a label that confirms the food meets minimum nutrition requirements, as established by the AAFCO.
A label that says "supplemental" isn't complete and balanced and shouldn't be fed for an extended length of time.
The ingredient list
The ingredient list must display everything used in the food, from the biggest to the smallest. You need to take the percentages as well as the sources into consideration. The first ten ingredients are the important ones, and you want to pay special attention to the main ingredient, which should be a specific source of meat, like beef, lamb, chicken etc.
Avoid foods that use byproducts like "chicken byproduct meal". Rather try and avoid protein meals, and if you do buy a "meal", stick to those that mention specific animals like lamb rather than beef meal. The main source of protein should be from meat, so stay away from sources such as vegetables and grain.
Avoid foods with MSG, artificial colors and added sugars. And be on the lookout for chemical names like BHT, BHA, propylene glycol etc. which are chemical preservatives that can be toxic to pets.
Look for food that contains sources of fruit and vegetables and real food names like barley, pork, pumpkin, rice.
The grains should preferably be oats, barley, millet, and quinoa; as corn, wheat and soy are common allergens.