Hearing loss is a serious issue not only for humans but also  for our four-legged friends. Unfortunately, this often happens when the dog lives to old age. But there are ways you can help your dog to maintain a good quality of life.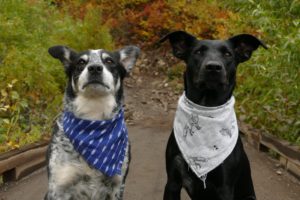 Teach visual language from a young age
The best preventative and long term investment in the dog's wellbeing is to teach it visual language as part of its basic obedience training. Even a dog with perfect hearing may be saved from a dangerous situation when it responds to visual signs.
How do you realize your dog's hearing is deteriorating?
The dog will probably  become less responsive to noises and may not react when you call it. The best way to test your dog's hearing is to stand where it can't see you and call its name, first softly, and if it doesn't react louder. This should give you an indication of how much hearing loss the dog has suffered.
Adjust to your dog's changing needs.
Keep it away from places where it could be injured by not responding to approaching danger, like busy roads. Be particularly vigilant at home, where the dog may be in the way of your own car.
Improve the silent communication by teaching the dog life saving cues
As soon as you realize your dog's hearing is deteriorating, you need to make sure it will responded to visual signs. Make it a fun exercise to teach, or reinforce the basic commands like come, sit, down, stay.
Come: Leave your dog in a sit, down, or stay position and walk about five feet away. If your dog isn't trained to stay, have someone hold the leash while you walk away. Face your dog with a treat in your right hand and your arms at your sides. Raise your right arm out to your side, parallel to the ground, and give the verbal demand "come". If the dog doesn't respond, bring the treat to its nose, then back to your chest. Step back to encourage it to come to you. When it does, praise and give the treat. Practice until the dog comes to you without the lure, and then without the verbal cue. The "come" command is a particularly important one that the dog should be taught from a young age. There are few more frustrating, and dangerous, things than a dog that will not come when called, or signaled.
Down: Let the dog sit in front of you while you hold a treat in your right hand. Raise your right arm until your fingers point toward the ceiling. Say "down" and give the dog time to respond. If it doesn't, lower the right hand to lure it down with the treat. Give the treat and praise it. Repeat until he goes down without the treat. When the dog has repeated this five or more times, give only the hand signal without the verbal cue. When he can do this, it's time for another treat!
Sit: With a treat in your left hand, hands at your sides, stand in front of the dog who is lying down in front of you. Bring the left arm in front of your chest with elbow bent, then straighten it to your left side, parallel to the ground. Give the verbal "sit" cue, if the dog doesn't after a few seconds, bring the arm down and lure it into a sitting position with the treat. Repeat until he sits in response to only the hand signal. Next, teach him to sit from a standing position.
Stay: Once the dog has learned to sit, you can teach it to stay. Let the dog sit, facing you. Hold your hand up like a stop signal and give the verbal demand "stay". Wait a few moments and look around, even walk away, then give the treat. Practice until the dog will stay in position while you walk away or do something else for an extended period. Then call it to you with the "come" command.
Don't treat your dog's hearing loss as a catastrophe, or become frustrated and impatient. The more understanding and helpful you are, the more responsive the dog will be. This may be a wonderful opportunity to strengthen the relationship with your pet. Remember; hearing loss is hard for humans and animals, and it's something you can't do much about except manage it.
Salomi is a contributing blogger, dog lover and avid learner.